Meyer Lemon Cake with Lemon Crunch Glaze
Spring is finally here! Well, it's supposed to be, but this crazy Ohio weather doesn't seem to care. With Easter only a few days away, it doesn't seem fair that I woke up to snow this week! But just as soon as winter decided it wasn't done with us yet, Mother Nature changed her mind again and we're back to sunny skies and 70 degree days. The Easter Sundays I remember from my childhood were always sunny and warm. I would play outside with my sisters and cousins, all of us in our new Easter dresses with not a winter coat in sight. Green grass and sunshine and flowers in bloom. Celebrating Easter meant that spring had officially arrived. I'm hoping Spring decides to stick around for Easter this year, but whatever the weather, this Meyer lemon cake is the perfect way to bring a little sunshine into your holiday.
The original recipe from Maida Heatter called for whole milk but I opted for buttermilk instead. I love the slight tang buttermilk gives the cake and how it works with the citrus flavor. The buttermilk also makes this cake incredibly moist and tender. I ate leftovers for several days after and they were almost as good as when it was baked. I actually didn't have any buttermilk on hand, but I had recently bought powdered buttermilk for this very reason. I had never tried it before and had no idea if it would work. You add powdered buttermilk to water which doesn't sound very appealing, but once it was mixed in, you couldn't even tell the difference. And it worked perfectly in this recipe.
I love lemon desserts almost as much as I love chocolate, so I wanted to up the lemon flavor as much as possible. Instead of adding the zest at the end, I rubbed it into the sugar with my fingers to release the oils and boost the lemon intensity. The smell was amazing! I had Meyer lemons on hand which are milder and sweeter tasting than regular lemons, but either would work well in this recipe.
The glaze topping this cake is from my favorite zucchini cake recipe and I thought it would be the perfect addition here. It's made with both granulated and powdered sugar mixed with lemon juice. It's a much lighter glaze than those made with only powdered sugar. The addition of granulated sugar is what gives it a slight crunch which I love. It's not a thick, heavy glaze but it also isn't so light that it soaks completely into the cake. It leaves a thin layer of lemony crunch that adds the perfect finishing touch.
This sweet and simple lemon cake was everything I hoped it would be and more! The bright lemon flavor and irresistible crunch would make this the perfect addition to your Easter celebration.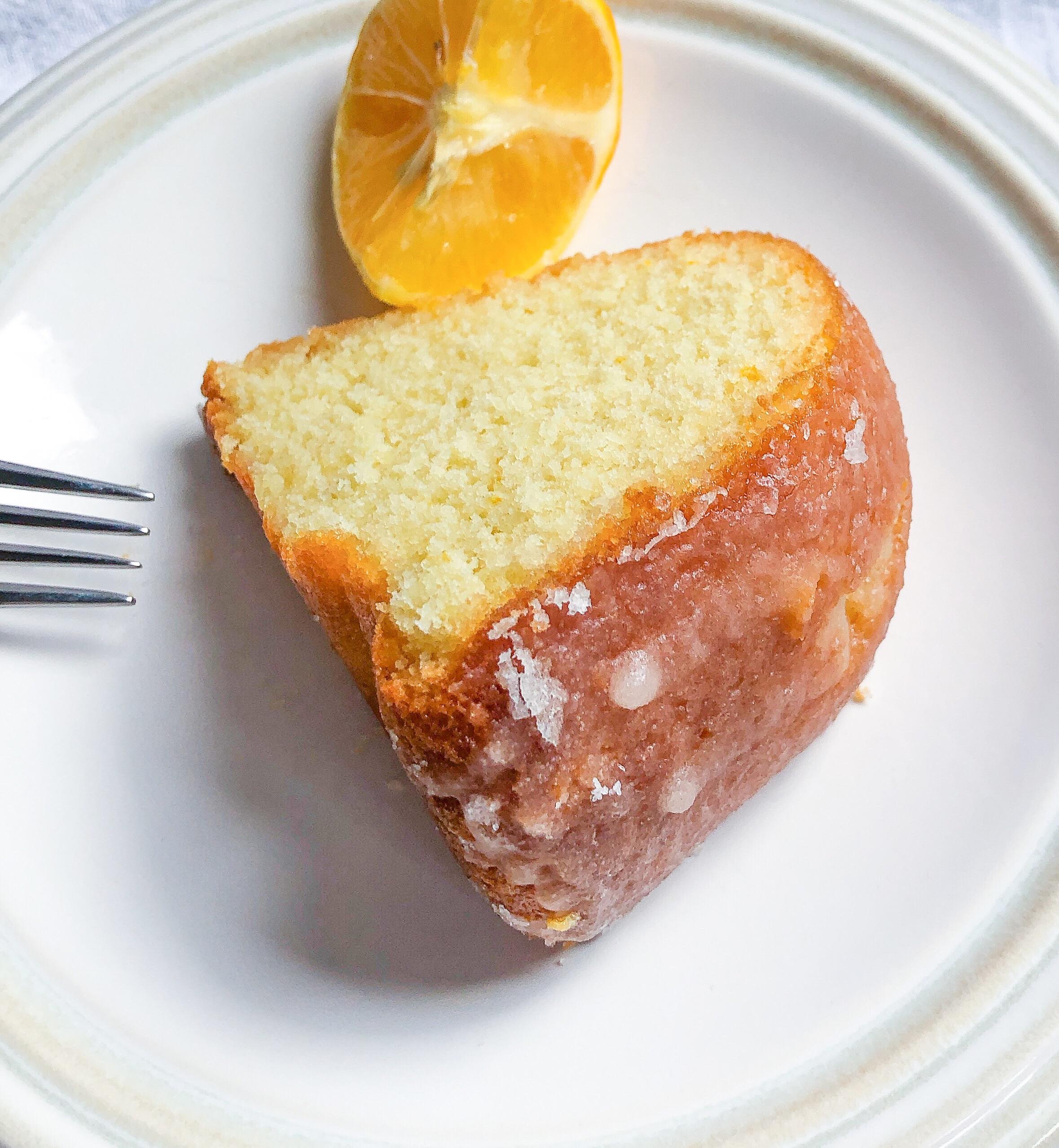 Meyer Lemon Cake with Lemon Crunch Glaze
For the cake:
3 cups (360 grams) all-purpose flour
1/2 tsp baking soda
1 tsp salt
1 cup (2 sticks) butter at room temperature
2 (397 grams) cups granulated sugar
4 eggs
1 cup buttermilk
2 tbsp lemon zest
For the glaze:
1/4 cup freshly squeezed lemon juice
1/3 cup (65 grams) granulated sugar
1 cup (140 grams) powdered sugar

Instructions:
Preheat oven to 325 degrees.
Whisk together the flour, baking soda, and salt. Set aside
Add lemon the zest to the sugar and rub between your fingers until the sugar becomes sandy and fragrant. Add the sugar to the butter and beat until it is fluffy and lightens in color. Add in the eggs one at a time, mixing well after each addition.
Add the flour in three parts alternating with the buttermilk and ending with the flour. Beat on low until combined. Pour batter into prepared pan and bake for 60-75 minutes until a cake tester comes out clean. *Check the cake early. Mine was done before the 60 minute mark
When the cake is done, remove from the oven and let it cool for 10 minutes. While the cake is cooling in the pan. Prepare the glaze by whisking together all the ingredients until smooth.
After 10 minutes, invert the cake on a cooling rack and glaze the entire surface of the cake with the glaze, using a pastry brush.
Let the cake cool completely before serving.